This is a small selection of our late spring and early fall lambs. These lambs were born mid May 2005- Oct/Nov 2005.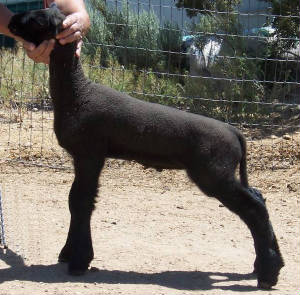 This is a stunning June 2005 buck lamb out of Rocky and our Supreme Breeding ewe "Jane". He is as level as they come! He has tremendous length of body and loin at this early age and shows to be an excellent buck prospect.
This is the same buck lamb at 7 weeks old
Wow is all we can say about this buck lamb! He is just 7 weeks old and has all the features we want in a buck...strong hip, level top, length and structure! He is as sweet as they come.